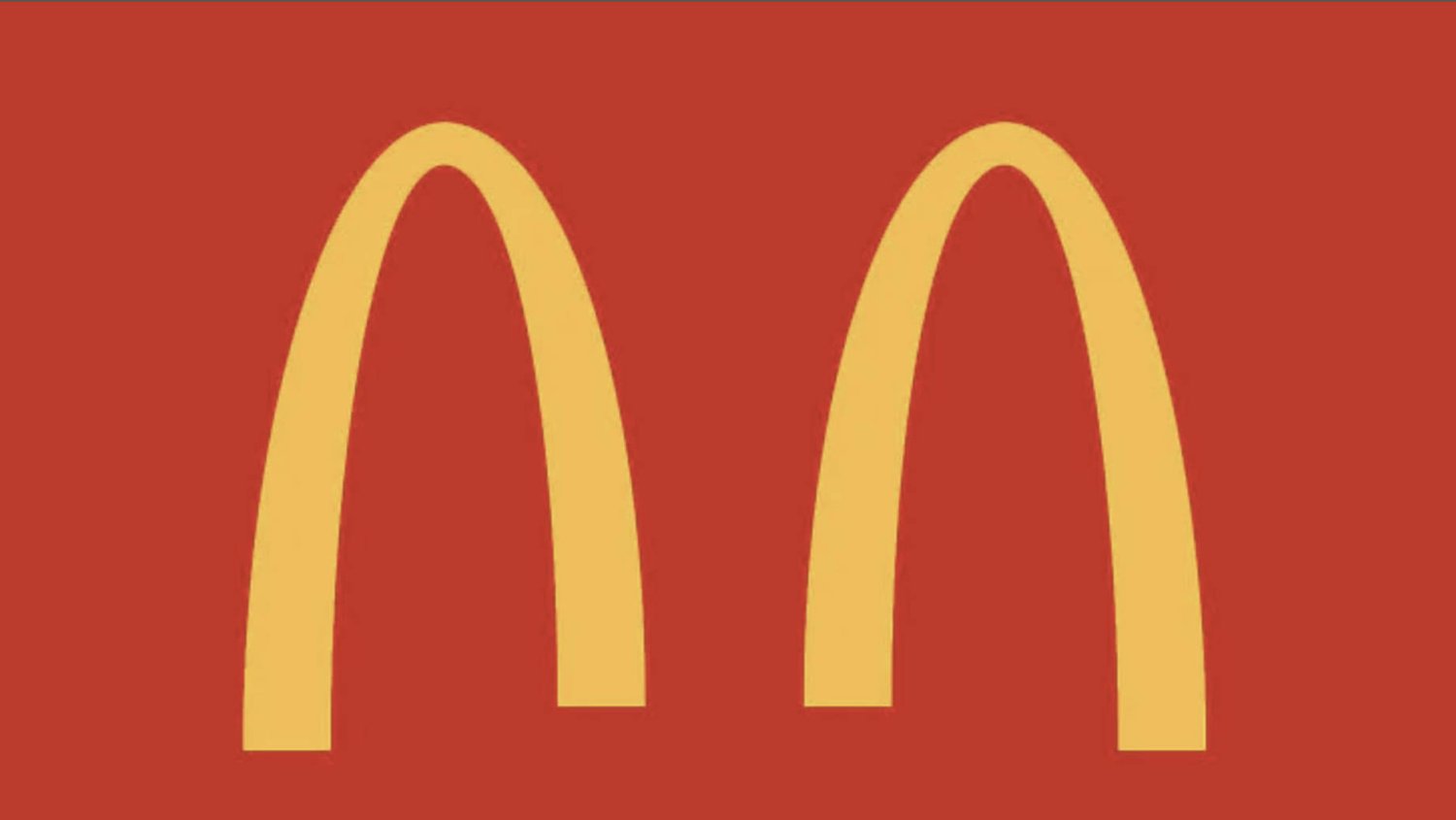 Marketing during the Coronavirus epidemic
Howard,
In the current climate, we're sure we're not the only people working in marketing asking ourselves 'how should I be running marketing during the Coronavirus epidemic?'
In times of recession or downturn, we all know the brands who win are the ones who think long term and continue to advertise and brand build, knowing it will pay off when the tide turns. But the current situation can't help make any marketing message seem, well… Insensitive? Unthinking? Clumsy at best?
We've seen how some of the big brands are responding to what's going on – McDonalds and Coca Cola social distancing adverts are clever (though have not necessarily landed in the spirit that they were no doubt meant), but what happens if you don't have a big marketing department, an agency at your beck and call or just need some ideas or thoughts on how to tackle things?
Marketing during the Coronavirus epidemic: Audiences and advertising
Market research business Global Web Index has provided some audience insight on the current situation: Coronavirus: The Consumer Impact. The audience response to advertising has naturally been on the agenda as part of their initiative. Unfortunately, views on advertising are polarized – damn!
When asked if brands should carry on advertising and marketing during the Coronavirus epidemic as normal, just over a third of those polled agree, just over a quarter disagree and just over a third aren't sure – and that consistency in agreement runs across age, gender and income. The only slight change in thinking is that Gen Zs (38%), males (39%) and the higher income group (39%) are the most likely to agree advertising should continue as normal.
How are brands responding to the Coronavirus epidemic?
What would seem more relevant however is how brands show they are responding to the outbreak.
"Even though a good marketers' general thought pattern is to put the consumer at the heart of everything they build, the strange and unprecedented times we're going through require us to think of people as human first, rather than consumers"

Nisa Bayindir, consumer psychologist and EVP Behavioural Science at Pulsar, audience intelligence and social media software.

'It's not the time for business-as-usual, really, because the world is not operating in that mode in the COVID-19 era. People are skimming through news and brand comms to get to the most vital and necessary information to them in order to navigate the global state of emergency. When self-protection and solidarity becomes so top-of-mind, everything else becomes secondary – including the usual consumer behaviour patterns. Brands can and should try and be a part of the conversation by offering support, inspiration and help to their consumers through human and relatable communications.'
The SimilarWeb research shows that those brands which offer flexible payment terms, free services, closing non-essential stores or helping to produce essential supplies score significantly more than the 37% who think they should carry on advertising as normal.
And we've seen a number of brands helping to tackle the impact of the Coronavirus from high end to mainstream: LVMH, the luxury business that owns Louis Vuitton, Bulgari and Moet & Chandon, has begun to produce hand sanitiser in France and L'Occitane has been sending hand creams to hospitals to help soothe workers' hands while Leon, Subway, Pret a Manger and Nandos are among those offering discounts on food or free coffee for medical workers.
"In practicing this empathic approach, brands will participate in the solidarity movement, and connect with their consumers on a deeper level. This doesn't mean they should pause all sales either, of course,' says Nisa. 'By inspiring consumers on how they can #StayHome and still enjoy their daily lives with the brands or products they love, they will also warrant a sense of partnership in times of crisis."
Different approaches for different sectors
What would seem to be key therefore is the actual type of marketing that's being conducted – and the message at the heart of it.
It seems obvious to say but being mindful of and acknowledging what's going on is key – as is the audience's current response to your particular industry. For example – again according to Global Web Index – over half of those polled said airlines should be reducing and cancelling flights to high-risk destinations. Knowing this kind of detail would be key in informing any communications travel companies should be making at the moment.
For other industries, there's a potential upswing in interest based on our current housebound activities. News, music streaming, TV, digital services are all benefiting from us having more time at home or on our hands – and this activity reflects the digital behaviours true to different demographics, for example, Gen Z are seven times as likely as boomers to report increased usage of music streaming services, and over ten times as likely to be creating / uploading videos. Meanwhile, 70% of us globally say we are spending more time on their smartphone, climbing to above 80% for Gen Z.
Travel and fashion marketing approaches during the epidemic
Discretionary purchases are likely to be significantly hit by the financial impact of the virus – flights (26%) and vacations (41%) are the most likely to be delayed and around 15% report delaying purchases of luxury items too. For brands involved in these type of sectors, more mindful marketing will definitely be needed.
Brands in these sectors need to find ways to tell and share stories to keep the brand top of mind without being crass. Travel brands in particular can provide up to date information about what's going on in their locations or how they're helping – and how that's relevant for consumers.
Meanwhile, according to Entsight, luxury consumers can be offered some form of flexible payment during the outbreak – this is something definitely of value to communicate. Entsight's chart shows how behaviours are changing for these luxury audiences, indicating an interest in spending more time together with family as well as hobbies – creativity or togetherness could be key messages.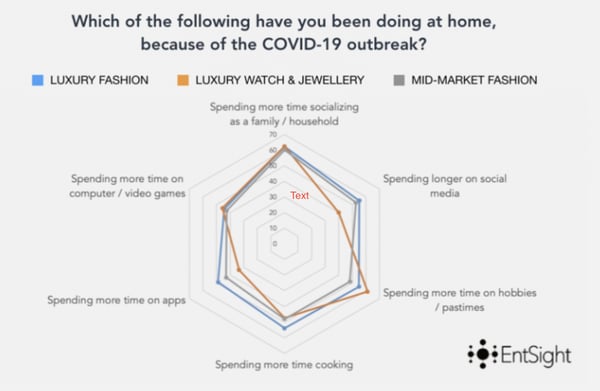 It's also a time brands can explore digital experiences or partnerships – the inevitable rise in digital activity we're experiencing now offers new partnership opportunities in streaming services, online education or video.
With so many trade shows postponed or cancelled by the epidemic, it's also a good time to investigate digital showrooms – these received a significant upswing in interest during the recent Fashion Weeks which were affected when Chinese buyers' needed to stay at home.
But what can everyone else be doing when it comes to content for a crisis?
"It's actually a fertile time to approach consumers and communication strategy altruistically, and aim to give something back to the consumer communities to help them stay resilient and positive," says Nisa.
But some practical approaches need to be taken; you should definitely review any scheduled content or campaigns for suitability and sensitivity – this is a time when people are feeling isolated and anxious.
But basic truths around content marketing still hold true: how can you add value, help or support? Now's the time to identify ways to tell and share stories to keep the brand top of mind be that support for key workers or those isolated, charitable activities, how you're helping your staff, tips on working from home, things to do at home – whatever initiative reflects the brand's values best.
But there is of course the opportunity always to create long-term valuable content, be it blogs or video for consumers that works into Google's search algorithms or those within YouTube. With increased digital activity, any business is still able to respond to consumer search, even if they're not necessarily going to buy right now. For some businesses, like fashion for example, there will be a need to recoup on Quarter 2's lost sales from seasonal products by highlighting ways they can be used across the year.
For some businesses, like fashion for example, there will be a need to recoup on Quarter 2's lost sales from seasonal products by highlighting ways they can be used across the year.
What's particularly valuable for any business is to continue to work with the longterm in mind. SEO content means being discovered at users' own discretion – this activity doesn't necessarily need to be 'promoted' across other channels if that feels uncomfortable.
But for smaller businesses, the approach may simply need to be straightforward a simple communication that the business is operational and working digitally.
Says Nisa, "Perhaps not only the whole world, but also marketing as we know it will have changed forever once this is all over…"