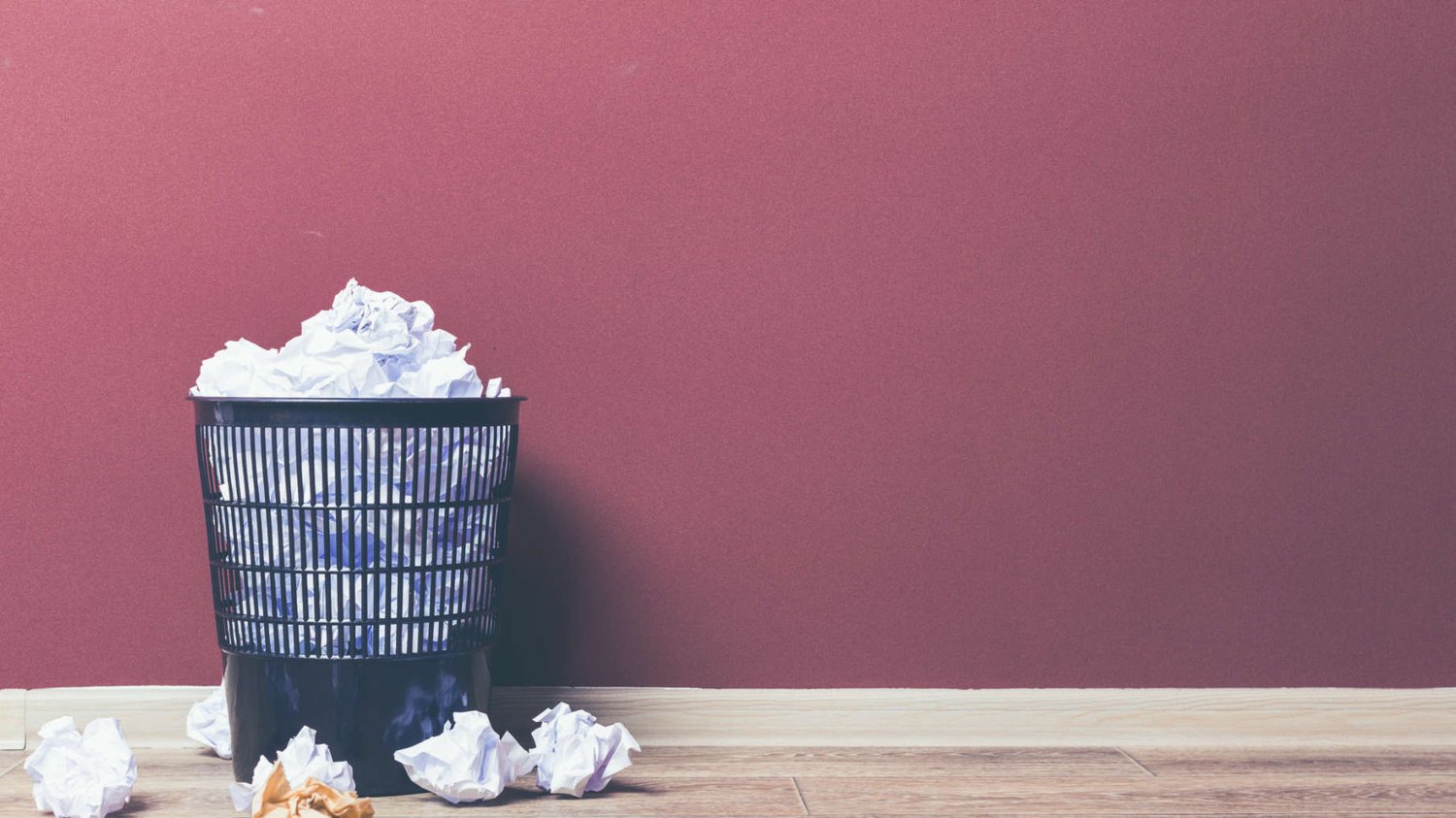 6 ways to avoid rubbish content
Whitney Edwards,
You need compelling written content for your communications. You need it for SEO and social success, for email and other direct channels. You need it fast and you need it regularly. But you don't have the time, the team or the expertise to create it in-house, or you're not sure what and how to write for specific channels (if you're thinking about online in particular, check out our article on writing for the web).
To solve your dilemma you hire an agency or talented freelancer to help you out. Email sent, job accepted. Problem solved surely?
Then you receive the first few pieces of content. Oh dear… Strange as it may seem, the author hasn't seen into the dark recesses of your brain and realised that you wanted something completely different. So now you're stuck with CCC: Crap Commissioned Content.
I'm not exaggerating when I say this is a big deal. One of the most sought-after features in business today is quality written content. You may have a shiny new video and image strategy but in a world dominated by search and social media, be in no doubt that words are still instrumental in influencing consumers, and especially, relevance algorithms. When your company gets its words right, you stand out and give your other assets a boost too.
The quality of your brand's content relies on several factors. This includes your commitment to social listening, your audience engagement and your awareness of industry trends.
However, not everyone understands that you can have all the research, all the insight and all the keywords and still generate crap content.
The strongest marketers, editors and content producers know how to pool all these raw ingredients to create efficient, sharable and engaging written content. Follow our six tips below to make your life a lot easier – and productive. And it all starts with a rock solid commissioning process…
Tip 1: The brief – nail it first time
If you've commissioned content from a writer you must provide concise advice on what you want. Simply firing out a request expecting magic to come back just won't cut it.
Gather input from others involved in the project to form a holistic view of what is needed. Next, condense this into a brief that the contributor can get started.
A proper brief not only minimises incoming questions but is completely transparent. The writer should be able to read the brief and instantly know what to do. This is also the perfect stage to share an overview of your company's content strategy, style guide (more on that later), or branding guidelines.
If your initial brief is spot on, you're giving the writer an approved starter kit to go forth and produce insightful content that aligns with your brand values, speaks to your customers and ultimately saves time at the editing stage.
QUICK TIP: If you don't want to misfire on content, give as much guidance to the writer as possible. A working title and a summary of what you want written will help to shape their content.
Tip 2: Quality – beyond the black and white
Content should be colourful. It should jump off the page and connect with the reader.
According to research, 55% of online visitors spend only 15 seconds reading page content. However, over 86% of engagement occurs below the fold (Slate.com). This means that if you can hook readers with your first three to four sentences, they'll be more likely to stick around (Socialtrigger.com).
It's therefore the responsibility of all content writers and editors to ensure that what they produce is:
• easy to read and entertaining
• tells a story effectively
• flows well
• grammatically correct
• engaging.
In addition, a content editor has the option of reflecting your company's brand voice, or letting the writer's individual style shine through.
QUICK TIP: Enhance writing with supporting video, statistics, data and hypothetical examples. This helps to keep the reader's attention.
Tip 3: Consistency – produce a style guide
Don't have an operating style guide in your business? It's probably time to create one, especially if you've commissioned content. With a clear brief a good content agency or editor can help you flesh this out. Do it once and it will save you a lot of time and trouble.
You can use a style guide internally or externally. Businesses naturally have their own grammatical and punctuation preferences, favoured words, hated phrases and accepted language… Yet this is never explicitly laid out unless you have an in-house style guide. Editorial rules implemented by word of mouth simply won't cut it if your aim is to be consistent (and it should be).
QUICKISH TIP: You can produce a basic style guide in a day! Gather the content creators and editors in your organisation. Collate important, defining elements of your brand style and essential rules to follow. Nominate someone to write it up in a succinct, plain-speaking document, and someone to edit it. Share internally as a PDF and externally when commissioning new content. For web writing style guides you may want to check out our guide (I mentioned that already, didn't I?).
Tip 4: The Headline – would you read on?
One of the biggest slip-ups in delivering great content is failing to draw readers in with a great headline. Without one (and without thinking of this even at the commissioning stage) you're overlooking a critical aspect of your content strategy. As your powerful first impression, the art of selecting a punchy title is essential to boosting engagement rates, especially in the cut-throat world of SEO.
According to Outbrain's research on more than 3.3 million paid link headlines, words such as "amazing" and "photo" in a headline encourage readers to stay up to 262% longer. On the other hand, words such as "free" and "magic" decrease engagement by up to 73%, creating higher bounce rates.
If your content features an infographic or video, ensure this is mentioned in [brackets]. This is proven to bump up click-through rates.
You'll find free generators online, but writing attractive headlines requires equal amounts of creativity and common sense. Best practice is to keep a headline around 55 characters (six to eight words in length), include topical keywords and create a desire in the reader to seek more.
QUICK TIP: Longer titles will get cut off in search results but shorter titles risk vagueness. Aim for the middle ground.
Tip 5: Attributions – sharing is caring
And good for SEO… With repurposing at its core, content marketing comes with the expectation that credit is given where credit is due. This includes double-checking that any names mentioned are spelled correctly, any statistics or quotes reference their source and any images used are approved for re-publishing on your platform. It's smart to keep your references in check from the start.
Paying attention to attributions within content is especially pertinent for print publications. Once it exists in a hard copy it is impossible to add or remove any text.
A strong benefit of proper attribution online is that it can increase inbound links, but Google also likes relevant outbound links.
However, when it comes to social media it's a grey area. On social platforms content is frequently shared and largely unregulated.
Best practice is to include a reference to the source if it does not fall within the realm of creative commons. Creative commons is a form of copyright that allows you to freely use the content. If you forget to include an attribution online, react quickly and harness the benefits of instant publishing.
QUICK TIP: Concepts can be lost in translation when repurposing content. It helps to revisit original sources to ensure your fresh content reflects the RIGHT end of the stick.
Tip 6: Tools – instinct isn't enough
I mentioned social listening before, and both it and keyword analysis can be useful tools.
Together they can provide a rich pool of content and engagement. They can also validate ideas and measure value in terms of mentions and shares.
By using tools such as Nuvi, Brandwatch or Sysomos you can readily spot trends among your customers' and competitors' conversations. Keeping an eye on keywords and keyphrases that work for your own website, competitors' websites and media within relevant sectors is useful too. Even monitoring advertising, especially bids for search phrases and keywords, can be helpful. For instance, we use Nuvi, Moz Pro and SEMRush for this purpose.
To sum up…
The process of commissioning content is no piece of cake. Some companies are equipped with talented in-house copywriters and marketers. But many others commission content as part of their strategy.
Regardless of which model your business runs on, evidence suggests that the quality of the content you produce and publish under your brand is of huge importance to its reputation. You can immediately start nurturing this by streamlining the way you commission content.
You can discover more about content marketing trends here, alternatively, get in contact to find out more about commissioned content.