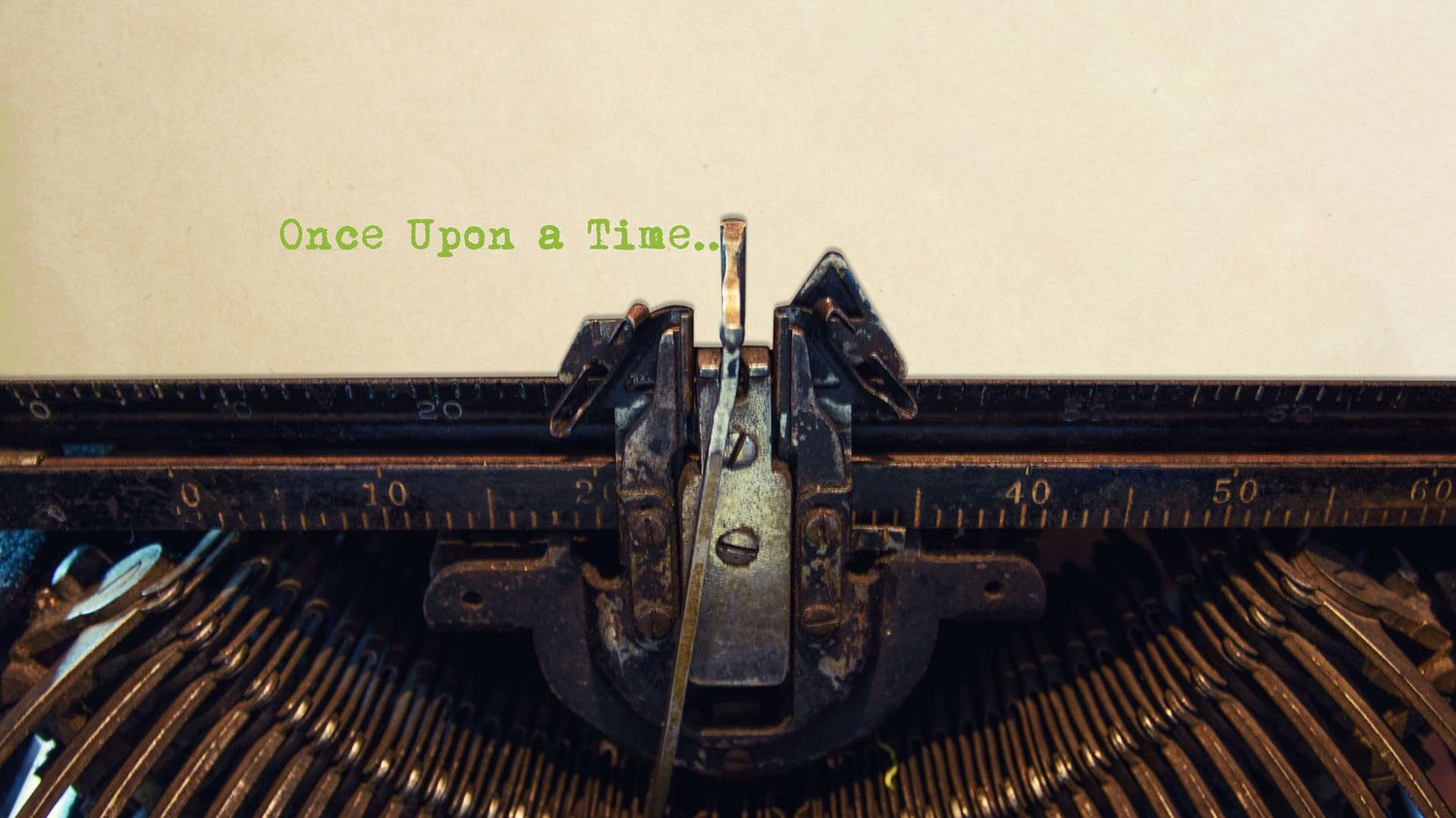 What is branded content? A definitive guide
Cathy Wood,
There are many ways to market your brand to potential customers, but one of the most effective methods is to use branded content. This is increasingly a vital consideration as part of your content marketing strategy and will become even more so in 2021.
But what is 'branded content' and why does it work?
Branded content can be editorial, podcast, video or even experiential, on any platform. It does not push a specific product with a strong sales message – after all that's an advert – but it does tell a brand story that elicits emotions in the audience and helps them to identify with the brand. It usually tells an engaging story, cutting through the glossy shouting of advertising and encourages the audience to explore the brand further.
Many publishers recognise the importance of branded content and have set up whole divisions tailored to this type of content. In 2020, the sector suffered a slump alongside much of the advertising sector, but thanks to new ideas and strong storytelling publishers are now getting around this slump and enjoying branded content growth once more.

As a content marketing agency, we encourage commercial partners to consider branded content as part of their marketing mix. An advert has plenty of strengths, but branded content can broaden the reach, engagement and impact, aligning the commercial partner more closely with our clients.
Is branded content the same as an advertorial?
Although much of the terminology around branded content, advertorial and paid content seems to be interchangeable, there are some key differences.
What is an advertorial?
An advertorial sells a product or service using long format copy and supported by images in print. There are lots of examples of advertorials and they should be marked as such so the reader is clear on what they are looking at. The content is usually supplied by the advertiser, and therefore will be in their decided design, fonts, layout and tone of voice. Due to this, advertorials are not the same as branded content – they are not telling an emotional brand story but are usually simply pushing a product or service.
This article from Cyberclick.net has some good explanations of what are, or are not, types of content marketing. It explains that branded content is not advertising as it does not focus on products and services, it is not content marketing, which is an overall strategy of communications of which branded content is one element, and it is not product placement, which places the product front and centre and doesn't tell stories.
Branded content should:
Tell a brand story
Complement the platform and brand it is working with
Have content, tone of voice and design controlled by the publisher, working in combination with both the client and the commercial partner to agree mutually beneficial content
What is the most effective branded content?
The goal of branded content is brand awareness, which ultimately drives sales, but there are other considerations.
A piece of branded content should be an asset to any platform it appears on – let's take a printed magazine for example.
A good piece of branded content will tell an emotional story of a brand that aligns with a magazine's own ethos. It should also be a well-written and engaging article in its own right – the reader should be left feeling like they have learned something intriguing.
A good example of a suitable fit for brands would be a luxury car magazine including branded content from a high-end jewellery company. A bad example would be a magazine focused on sustainable living including branded content on a diesel-guzzling car. So match your brands carefully.
"The most effective content partnerships have to be authentic – we only work with commercial partners that are relevant to our audiences and fit with our brands to create content that is meaningful to them."

Abby Carvosso, Group MD, Advertising at

Bauer Media,

in an interview

with the

Branded Content Marketing Association.
"Brand content provides value (service, information, and entertainment): it is interesting in and of itself, independent of a product purchase, presents itself as a special power addressing people; it extends beyond a commercial function to involving individuals in an enriching experience."

Daniel Bo, Founder and Managing Director at

QualiQuanti
And PJ Pereira, Chief Creative Officer at Pereira & O'Dell provides some good advice…
"Never underestimate the intelligence of the audience by hiding the brand or by overdoing it. The art is in the balance. And the world will try to unbalance you all the time. The artists collaborating with you will push to make the brand less prominent. The clients will try to make it more. Your role is to find the right spot, where both will be content, and the audience ecstatic. They will both thank you for that later. Because the best examples of branded content and branded entertainment are those who find a way to, at the same time, bring return to the investment of money that the brand makes and the investment of time the consumer makes. A dual ROI, in marketing jargon."
The ultimate branded content example
A good example of a high-profile piece of branded content is the Lego Movie. The Guardian called it a "stunning piece of content marketing dressed up in a silver screen ball gown."
It was clearly entertaining, it was certainly popular and it helped to boost sales for the company: "In 2015, the year after the release of The LEGO Movie, LEGO reported sales jumped 25%. In 2014, sales jumped 14% after the release of the movie."
Although this big budget blockbuster is out of reach of most brands, there are plenty of opportunities in print, film, online or at events to create experiences and tell stories about brands that are highly effective.
How is branded content made?
There are different ways to generate branded content. Some commercial partners have in-house copywriters, marketers or video production teams who can create their own pieces.
But, at Dialogue, we believe that the editors of our publications and platforms know best how to write and produce content for their audience, therefore our editors write or commission branded content. This is more work for us, but it gets the best results for both the commercial partners and our clients. It allows us to steer the story, uncover the message and bring the audience on the journey, whilst staying true to the ideals of our clients and keeping the commercial partners happy.
We have a tried and tested process for generating branded content.
Step 1: Identify a commercial partner who is interested in branded content and check they are a good fit for the client publication or platform.
Step 2: Ask the commercial partner for any brand stories they would like to feature. A phone call will help them to tease out whether they want to talk about their company's history, plans for the future, their focus on bespoke products, their green credentials and so on. If there are no obvious starting points, a bit of research by the editor should get the ball rolling.
Step 3: See how these themes can align with the client's themes – can you tie in similar examples or shared ideologies?
Step 4: Present these ideas to the client – after all, they need to see that the content included in the magazine, e-newsletter, digital magazine or website they put their name to is the right fit.
Step 5: Create the content – this might include photoshoots, commissioning journalists and so on. Whatever is required to ensure that the branded content is up to the same standard as the rest of the content. There's no point including a shoddy stock photo and poorly written copy if the rest of a magazine is printed perfection.
What if you're not interested in print?
Branded content isn't always a part of a bigger whole – like a magazine. It can also stand alone. A commercial partner that usually advertises in print, could expand their reach by creating a branded content video to distribute to the same audience via social media or YouTube.
For instance, if a cycling publication had a health supplement brand interested in contributing to a series of head to head video interviews, where post-race recovery was discussed with nutritionists, you have a piece of branded content. At no point is the product pushed, but the discussion is informative and includes information around supplements and dietary support that could boost awareness for the commercial partner. The same goes for podcasts, digital articles and even events.
There are many ways to either include branded content in a printed magazine or work closely as brand partners to produce a variety of content in film, podcast or any other creative ideas. Whichever platform is used, branded content is an effective and engaging way to tell a story and reach a targeted audience.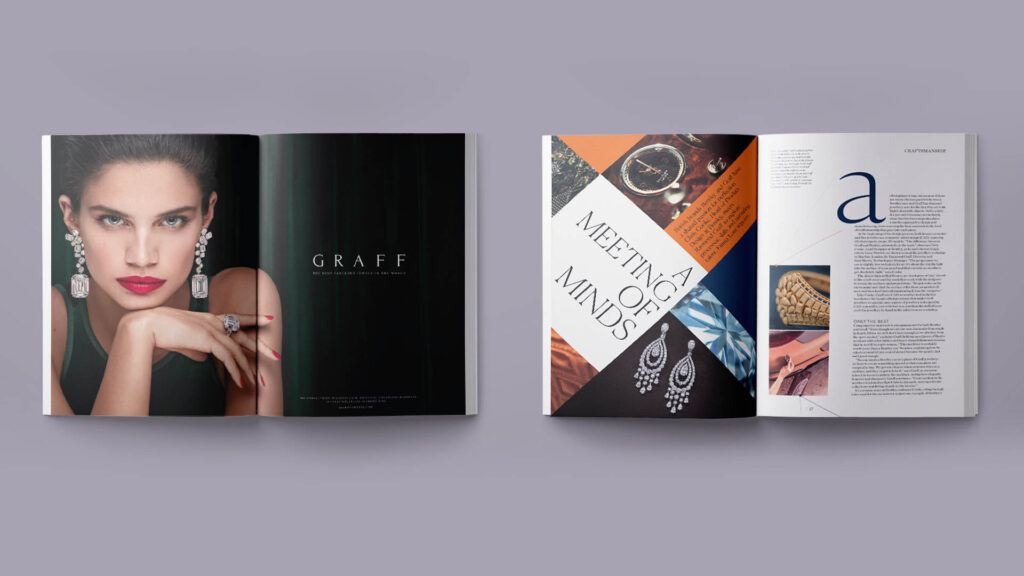 Graff Branded Content for Bentley Magazine
Case study: Bentley Magazine and Graff
Graff, makers of some of the world's finest jewellery, advertise in Bentley Magazine, the customer magazine for Bentley Motors. As a committed commercial partner, Graff was also interested in branded content and so we approached both parties to discuss the best approach.
The idea
Graff and Bentley share many values, including sourcing the highest quality materials, using similar design processes, supreme craftsmanship and nurturing talent through apprenticeships and training. We decided that we could bring together these shared elements in person, and arranged for Chris Cooke, Lead Designer at Bentley, plus design intern Anna Pittrich to visit Graff's jewellery workshop in Mayfair to meet Raymond Graff and the team.
The process
We attended the visit with a photographer and journalist who were on hand to interview the protagonists and capture this unique meeting of minds. Shared values were discussed, jewellery carefully handled, and parallels drawn between the brands.
The result
The article that featured in Bentley Magazine provides equal weighting to the commercial brand and our client, Bentley. It fits perfectly into the mix of the magazine, carries the same tone and tells a compelling story of two British brands who define the world of luxury.
The article was given the same design consideration as the rest of the magazine, with an in depth workshop and discussion internally, along with collaboration with Bentley and Graff to ensure both parties were happy with the outcome.
Where can I find out more?