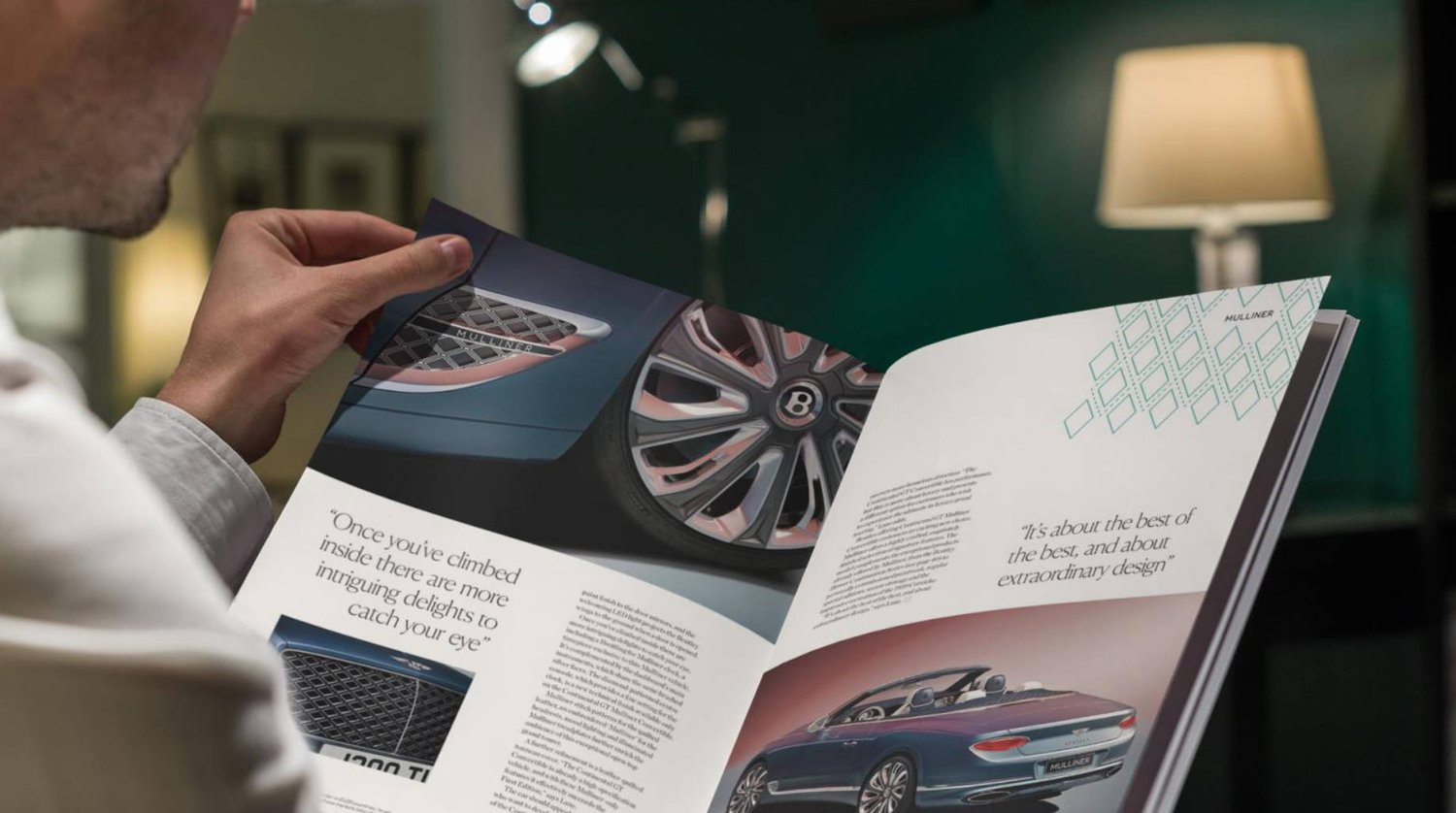 Brands with print magazines – who's reaping the rewards?
Rosie Pearce,
In a world where it can be difficult to attract and sustain attention for your message, brands with print magazines are the ones who can create cut-through in the noisy media landscape.
Producing a brand magazine is one means of doing this, but the move into print is not always straightforward, and may not be right for every brand.
We take a closer look at some of the most prominent brands with their own magazines, and examine what it is that sets them apart.
What is a brand magazine?
First of all, it's important to consider what a brand magazine is, and what sets it apart from other print publications.
A brand magazine is distinct from a catalogue. Brand magazines offer something more to their readers than simple listings of products
A brand magazine goes beyond straightforward advertising. It aims to provide readers with original, engaging content that will inspire and inform
A brand magazine expands horizons.
Find out more on how to create a branded magazine.
Which brands have print magazines?
Although the concept of using print magazines for content marketing is not new (in fact, The Furrow, the magazine of U.S. agricultural firm John Deere, was first published in 1895!), the past few years have been particularly notable for the emergence and impact of brand magazines across a diverse range of sectors.
Luxury
One area which has traditionally been associated with print is that of luxury. After all, a glossy print magazine is by its very nature a luxury item, serving as a riposte to throwaway culture.
Take for example the award-winning Bentley Magazine, first launched by Bentley Motors in 2003 and relaunched in partnership with Dialogue in 2018. This quarterly magazine includes interviews with high-profile figures, lifestyle features and stories on technological innovation, alongside coverage of new car models and accessories. The result is a luxury, collectible publication with a thoroughly modern attitude.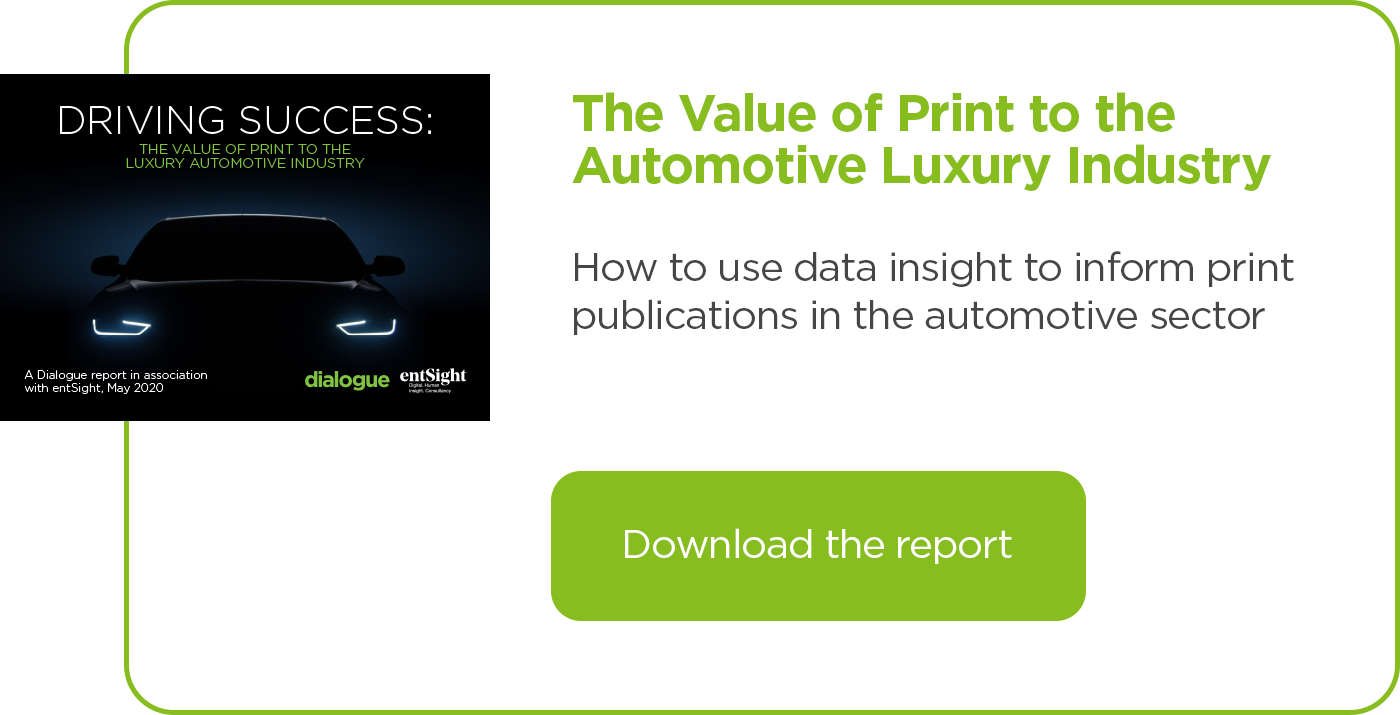 Another highly successful luxury brand magazine is Porter, launched by online retailer Net-a-Porter in 2014. The premium feel of the magazine combined with its high-end photo shoots and fashion journalism ensure that it more than holds its weight alongside established fashion magazines such as Vogue. The rationale for producing the magazine was simple, as explained by brand founder Nathalie Massanet upon its launch: "We're building a physical temple to our brand."
Fashion
Porter is just one of a number of fashion brands which have found print to be a natural fit. Though now defunct, one of the best examples came from fast-fashion giant ASOS. Its self-titled magazine's reliable output of credible journalism, high-quality fashion stories and A-list celebrity interviews helped cement its position as one of the most popular fashion magazines targeted at the under-30s market, with a circulation of 700,000 at its peak. The magazine came to an end in Autumn 2019, but it is still heralded as a pioneer in the field.
Another fashion brand which made the move into print more recently is Japanese label Uniqlo, which launched its LifeWear title in 2019. Although Uniqlo products are featured in most stories, the magazine covers a range of topics and featured a lead interview with brand ambassador Roger Federer in its first edition. The magazine is published in both English and Japanese and is available in full online, as well as being distributed in stores.
Food and drink
For a brand magazine to be successful, it needs to offer something different or extra.
"Print magazines are proven to be a successful medium that … goes beyond the ordinary with stories that have deep, rich context."

Dietmar Otti, Red Bull CEO for TV, publishing and operations
The brand's Red Bulletin magazine – delivered to subscribers ten times a year in multiple languages – fulfils this brief with stories from the worlds of sport, adventure, culture and music, all delivered in the irreverent style that the brand is known for.
It's this attention to tone that is often key to the success of a brand magazine – harness your brand's voice in print and it can be an extremely powerful content marketing tool.
Take for example Sainsbury's magazine: launched back in 1993, it was the first of its kind and a bold move for the supermarket chain at the time, but it paid off. The magazine has won multiple awards and has a monthly reach of over 1.7 million, making it one of the best-selling glossy magazine titles in the UK.
Digital brands with print magazines
While print can be a way for a longstanding brand to diversify its offering, it can also be a means of cementing the presence and image of a younger brand.
An example of this is online travel accommodation provider Airbnb, which launched Airbnb magazine in 2017. The brand's driving message is 'be at home in the world', and this is an ethos that the print magazine echoes, with a firm focus on local residents' perspectives, rather than glossy, distanced travel writing.
However, this is not Airbnb's first print publication – back in 2014, the brand launched coffee table magazine Pineapple, but it proved short-lived. What is significant is that the next time Airbnb made a move into print, it was in collaboration with an established magazine publisher.
Another digital-first business which has made the foray into print more recently is dating app Bumble, which launched its eponymous magazine last year. Although dating advice can be found within the magazine, its scope reaches far beyond this, demonstrating Bumble's ambitions to become a comprehensive women's lifestyle brand.
Why are print magazines from brands effective?
In a digital-first world, print magazines offer the opposite to snacky, ephemeral, speedy content that is consumed at pace. Instead they invite the consumer to relax and engage deeper. And in return, for the brand, it's an opportunity to brand-build and share their values in a more subtle way. Just like the emerging podcast format, it's a more intimate experience and allows brands to cut through what is called 'content shock'.
Of course, there are multiple other benefits to a print magazine that go beyond engagement; the opportunity to maximise content, generate revenue from it through advertising and of course, drive to sale.
"From my point of view it's successful if more people experience Airbnb and talk about it."

Brian Chesky, CEO, Airbnb
Community spirit
By choosing to invest in print, and thereby invest in readers, a brand may well find that the reward is that most coveted of consumer behaviours: loyalty.
Underpinning this is trust. Research has shown that consumers tend to trust print more than online content, and many persist in choosing print over digital – FedEx Office found that 90% of all consumers prefer to read printed materials as opposed to digital screens.
What is perhaps surprising is that this trend stays strong regardless of age – according to MNI research, baby boomers read on average 9.2 magazines per month, but the figure for millennials is also high, at 8.9.
Another major benefit of a producing a print magazine is that it can help foster or enhance a sense of brand community.
A good example is The Enthusiast™ magazine – the official publication of the Harley Owners Group®, produced by Dialogue. Since its inception the magazine has taken on a strong identity of its own – members are eager to have their photos and stories featured in the magazine, and feel themselves to be part of a global community.
A

two-way relationship
Another valuable reward of print which can be hard to quantify is that of time. A print magazine offers the consumer full immersion and so a brand can build a stronger connection than a fleeting advertisement or social media post may achieve.
The relationship between brand and consumer can be mutually beneficial in other ways when it comes to print magazines. Take for example Airbnb's use of algorithms to inform its magazine features.
"We know how many people are searching to stay in Havana, Detroit or Tokyo, and we know how many people want to go based on search dates for future trips,"

Brian Chesky, CEO, Airbnb
Based on this data, the editorial team at the magazine will look to include material about these locations in the next issue. The editorial team at Bumble Mag took a similar approach when they reached out to the brand's committed social media followers for content ideas.
Short- and long-term gains
We've examined some of the deeper benefits that a brand can gain from a print magazine in terms of consumer behaviour, but that's not to say that there aren't measurable financial benefits too. For example, as Tess MacLeod, VP of publishing and media at Net-a-Porter, reported:
"85% of our top customers were inspired to shop after reading an issue ofPorter, and those who become subscribers increased their spend by more than 125%."
What's clear from reviewing the various brand magazines available is that there is no one-size-fits-all approach to be taken when developing a content marketing strategy: any brand should carefully analyse what exactly it is hoping to gain from such a venture, and what it hopes to offer to consumers. If the resulting magazine can deliver on these aims, it may prove to be an extremely powerful asset indeed.
Take advantage of our FREE content consultation here to talk to us about branded magazines.