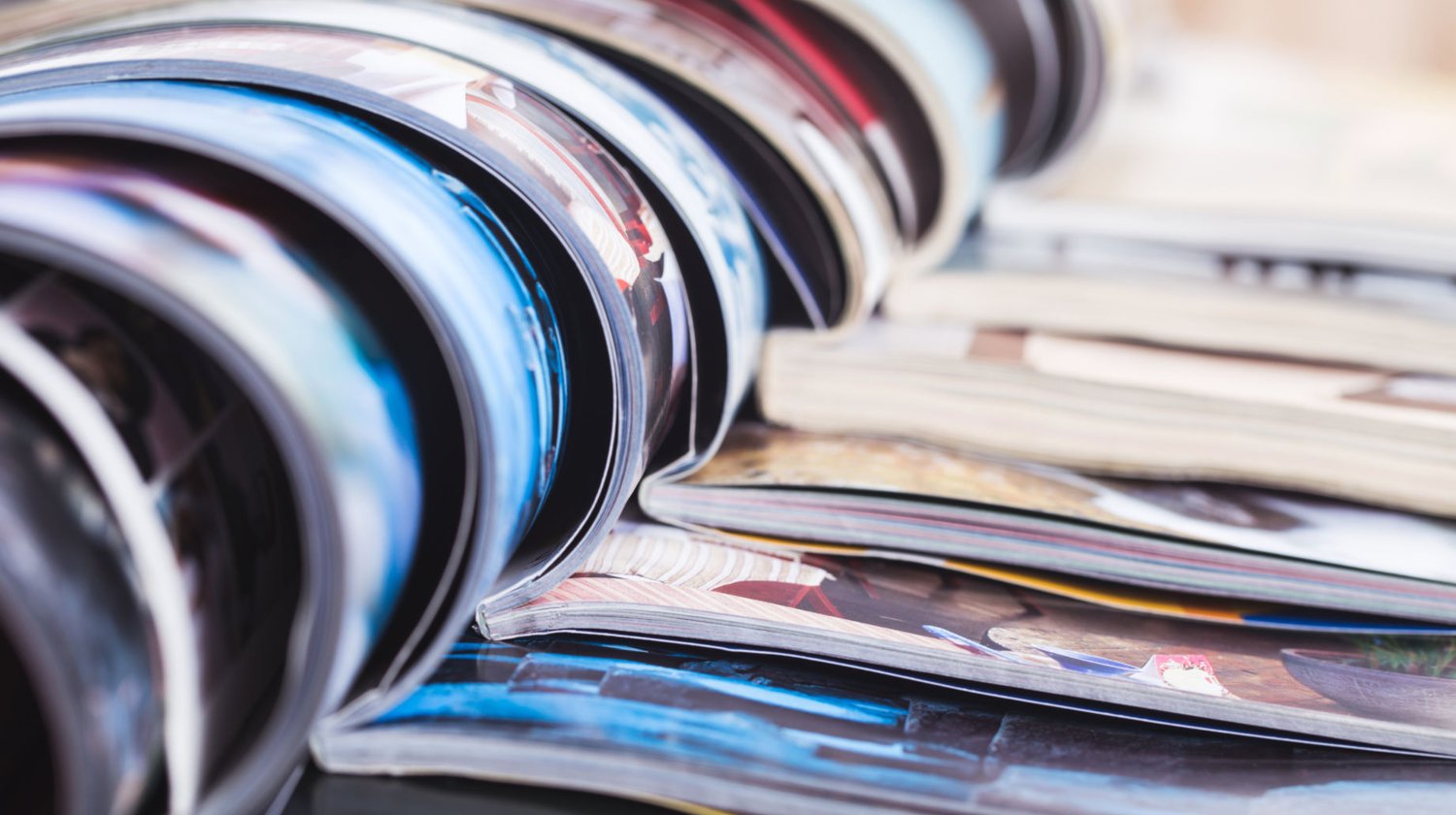 Catalogue vs magazine: How to turn your catalogue into a magazine
Mike Waters,
There's a straightforward distinction between a catalogue and a magazine; the former is a list or visual display of products, while the latter involves and engages the reader in a way that helps to finance its own printing and distribution as a product.
In 2020, the notion of a catalogue is – dare we say? – becoming increasingly outdated. When people are looking to find out more information about products and their applications, they want more than just a listing.
This type of information is readily available online, so why would you offer the same information in a lesser format and in the more costly medium of print? For brands, it makes sense to get the best of both worlds and turn catalogues into magazines which allow for a greater depth of information and added value for the consumer.
Although traditional magazines have suffered – much like newspapers have – because of the internet, many brands have nevertheless launched magazines to take advantage of the deeper engagement afforded by them for their audiences. Find out more about brands with print magazines.
In their report, 'Bridging the Long- and Short-term Divide: The role of magazine brands in the digital age', marketing agency Magnetic was able to prove for the first time that magazines deliver both long-term brand value and significant activation effects. They found that using magazines in the mix results in a 30% uplift in activation effects.
Brands that now have their own magazines for their clients include long-term pioneers of the medium Harley-Davidson, digital players like Airbnb and dating app Bumble, FMCG Red Bull, golf gear specialists Callaway, cycling brand Rapha and a variety of fashion brands including Net-a-Porter, Gucci and Uniqlo.
Why is that? In a word: persistence. Airbnb's CEO Brian Chesky spoke to The Wall Street Journal about the value of print, saying,
"There's the possibility that it can be saved. It isn't ephemeral, as opposed to content on a feed that expires."
Of the most read magazines in the UK in 2017, half the top six were published by brands.
It makes sense for brands to consider a magazine over a brochure, a leaflet or even a flyer.
How to turn your catalogue into a magazine
If you already have a catalogue and are thinking about turning it into a magazine, the good news is that you've already got a few aces up your sleeve.
As a general rule, people don't think about catalogues themselves very much but they think about what's in them a great deal.
Catalogues encourage consumers to imagine how their products fit into their lives somehow. This principle holds true whether it applies to clothes, furniture, tech or anything else. But things deepen when you add storytelling into the mix…
As the pioneering cognitive psychologist Jerome Bruner found, information presented in the form of a story is 22 times more likely to be remembered than that which is simply listed. Sparking inspiration in a reader and getting them to tell themselves "If I had this, then I could go ahead and do that…" is as powerful, if not more so, than any discount.
The IKEA catalogue is a famous example of this in practice. Produced in 17 languages for an estimated 200 million people a year, it is the Swedish retail juggernaut's strongest marketing asset by far. Flick through it and you'll find pleasant scenes of their products in appealing everyday settings that can be readily pictured in your own home or office too. And that's before we get to their Augmented Reality options which are designed to personalise the experience further.
Editorialising products simply reflects what is or should be happening in-store for consumers anyway. Expert customer service is what breeds brand loyalty.
"Customer loyalty comes from a positive experience, satisfaction and valuable products or services"

Dialogue's Jessica Bennett in Types of Brand Loyalty.
Magazine benefits
The drawback with relying on a catalogue is that it's a more passive experience for the audience. They effectively rely on the user doing the heavy lifting themselves.
Content can give this process a helping hand by cultivating emotional engagement – and that's where magazines excel, thanks to their ability to consciously guide the reader.
The Harley-Davidson brand community is a major success story in this respect, as Dialogue's Zoe Francis-Cox explains in What can companies learn from the Harley-Davidson brand community?
"The customer journey to purchasing a Harley-Davidson motorcycle is a very emotional one. Seeing – and hearing! – other Harley-Davidsons on the road is what sparks interest – not because someone has sent you a brochure with the latest product specs. The overall marketing strategy must harness this emotion early and build the desire that will ultimately result in advocacy."
So how do you turn a catalogue into a magazine?
1. Starting with the audience
The success of any magazine relies on achieving a deep understanding of its audience.
The first step is of identifying who that is, but this is a step that you have almost certainly already made. If you send your catalogue anywhere at all, you probably already have one of content marketing's most prized jewels – a targeted mailing list.
Dialogue's Howard Wilmot explains just how useful this is in Five ways to master a contract magazine distribution strategy guide. It's all about ensuring the content lands in the right hands. For example, if you know who your audience are and where they live, you can ensure the right format. If 50% of your customers are in English-speaking countries and 50% of your customers are in French-speaking countries, this naturally suggests that having editions in those two languages is a very good idea.
2. Turning customers into an audience
The next step is developing content for this audience. Again, you have major advantages on your side here too that can allow you to bypass a lot of the trial and error that other brands might experience.
Through the catalogue, you'll also have a lot of background knowledge about your chosen area in the form of experts on staff, existing contacts and so on. You just need to channel what they can provide through the magazine instead.
3. Using sales data
Similarly, your catalogue's sales histories can help too. If you know a particular product line is more popular than any other, make that a priority for coverage. Your audience has already as good as told you that's their priority as well!
Data-led decisions on content using your existing sales figures can be adjusted seasonally too, so making more of your reliable sellers at Christmas and the holiday season in summer (for example) can help provide inspiration for campaigns.
Selling sunglasses while the sun shines is a time-honoured tactic, but a good copywriter can spin up a top five listicle to help focus attention on your key products in no time at all together with a simple call-to-action which can turn it into a live sales lead.
4. Using consumer insights
It is also helpful to remember that a customer or reader is more than just an entry on a spreadsheet. You can apply a little lateral thinking to help build content that will resonate with them, syncing this with your social media insight or using social media listening tools to explore subject areas will help further. Perhaps there is a well-regarded expert they would like to hear from? Someone within your organisation with valuable knowledge? Or even a charismatic competitor who can shine in an interview?
From catalogue to magazine
The fashion sector has historically been a strong advocate of catalogues as marketing tools because of the convenience they offer consumers and brands alike.
A business can save on bricks-and-mortar shops by dispatching goods straight from a warehouse, while a customer can enjoy a low-pressure shopping experience in the comfort of their own home. A magazine to help make this process a more focussed one has plenty of excellent precedents.
So, how do you create a fashion magazine out of your catalogue? Your existing mailing list will cover the practical essentials of delivery while other institutional knowledge can give you valuable pointers about your audience if it isn't already obvious from your sales data. Is your audience an A1 luxury one? 2D urban professionals? 3J mass-market? 4K niche interest? A mix of many levels?
This way of thinking about consumers comes from Acorn, who developed a segmentation tool which categorises the UK population by demographic types, analysing significant social factors and population behaviour to turn us into six different categories, 18 groups and 62 types.
Equipped with more information about your audience, you can gauge what type of content will be appropriate and of interest. A luxury audience might be interested in event coverage of a prestigious fashion show or an in-depth behind-the-scenes look at exceptional craftsmanship in the world of high fashion. A professional audience might prefer practical guides on how to look sharp for that big meeting. A mass-market audience might like guides on great bargains. A niche audience might appreciate an interview with a famous designer or a dramatic photoshoot.
The best is yet to come
Developing a full spectrum of content requires more energy than a catalogue, of course.
However, for any brand with a catalogue and social media presence, there is the option to combine the two strategically. With a dedicated team selling ad space for the print version or a combined package using print and digital, there's the possibility that you can have advertising offset some of the costs or pay for the marketing outright. How's that for a win-win?
The Ikea Catalogue Rethought
Ikea is one brand that is rethinking its print output – turning its world-famous catalogue into a 'handbook'.
In 2021, the catalogue celebrates its 70th year meanwhile the brand itself is looking to become a more meaningful source as home lives become more cluttered.
The 2021 handbook will offer "how to's" for building quality of life at home and serve as a problem-solver full of tips, ideas and affordable shifts.
We look forward to seeing it but it promises to be an exciting evolution in the world of catalogues and a reflection of a new world that desires so much more from its brands in the way of information, ideas and inspiration.