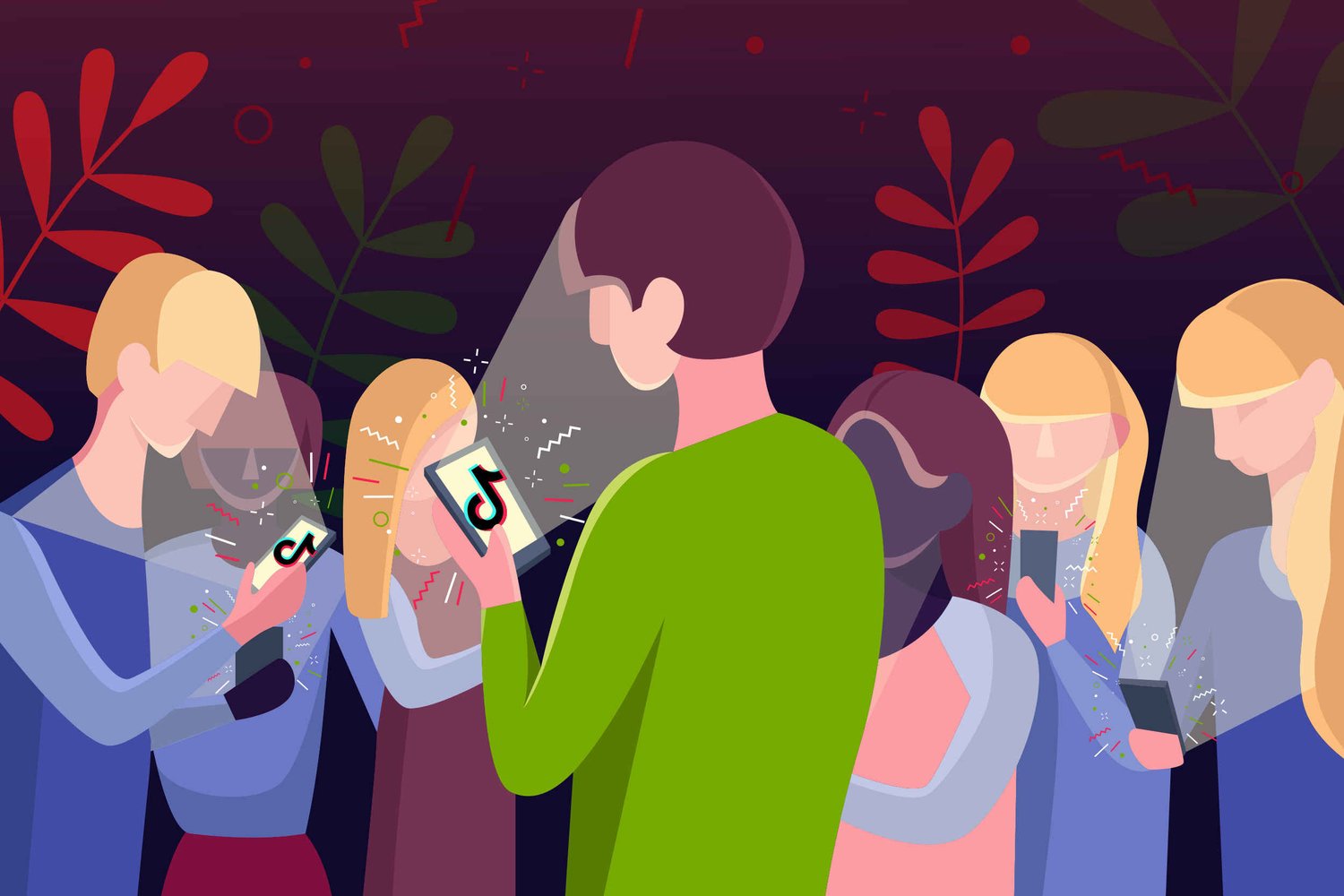 What's the point of TikTok?
Niamh Brook,
TikTok has quickly become one of the most popular social media platforms on the market, but should brands use TikTok to reach their audience?
Some brands have quickly learned how to adapt their content strategies in order to engage with new audiences in this space but others are still figuring out how to create content for the platform - but if you get it right, the results can mean raised brand awareness, an engaged audience and organic brand advocates.
What is TikTok and how should brands use it?
TikTok is an amalgamation of all the social media platforms we know and love, but with a core focus on video content. With videos ranging anywhere up to three minutes long, the platform has inspired people around the globe to create unique and creative content for the app.

The expansive range of content found on the app – such as viral dances, challenges, fashion and cat videos – has trends and virality at its core.

Creators can follow certain 'trends' on the platform by creating unique content that utilises a sound effect, filter or song available on the platform - using one that's viral at that moment in time can help gain more views.

Tom Vince, Creative Director at Archant's Creative Life, says:
"Music is KEY. TikTok bucks the trend for social media and puts sound at the forefront. Make sure your music is linked with your content."
With an algorithm in control of what users watch, viral videos are shared with ease and many users create content for the app with this intention in mind.

The app is particularly popular with Gen-Z and, despite its short lifespan, TikTok has an estimated one billion users each month.

With its meteoric rise to the top of everyone's home screens, it poses the question… How can brands use TikTok to their advantage?

TikTok is crammed full of different ways to help brands engage with consumers:
1. Hashtags and user tags for brands on TikTok
Much like other social media platforms, TikTok makes use of hashtags and user tags (@s) in order to help organise content and ensure consumers can connect with the content that's right for them.
Hashtags and user tags are incredibly valuable tools for brands, offering the opportunity to run competitions and set challenges, as well as encouraging users to tag the brand in the content they have created.

Luxury fashion brand Ralph Lauren noted the power of the hashtag and was the first brand to establish a hashtag challenge linked to a sporting event, launching the #WinningRL challenge during the US Open in August 2019. After producing a series of videos featuring actress Diana Silvers displaying her tennis skills and 'wins', TikTok users were encouraged to share their real life 'wins' for a chance to win a Ralph Lauren competition. Since its launch, the hashtag has received more than 700 million views.

The success of the campaign helps to highlight the power of a good hashtag and the successful brand awareness it can promote.
2. Influencers on TikTok for brands
In recent years, influencers have become a major asset for brands. The influencer's established, loyal following typically aligns with the values that the influencer is presenting.
Brands can harness these values and work with the influencer to hone in on their audience. Working with an influencer who has their own established personal brand allows you to reach your target audience quickly and effectively whilst also having your brand feature in unique and interesting content.

Once more, TikTok seems aware of the power of the influencer and has created The TikTok Creator Marketplace: a tool that allows brands to easily find creators/influencers who align with their values. Not only does this tool save brands time, but it also helps brands manage the end-to-end process of creator marketing.

It's no secret that countless brands have harnessed the influence of TikTok creators. However, luxury fashion brand Gucci featured an unlikely influencer in their recent campaign. To promote their collaboration with North Face, Gucci featured Francis Bourgeois, a TikTok influencer famed for his passion for trainspotting.

The video created for the collaboration differs from Gucci's typical style and is instead a unique blend of Bourgeois' signature awkwardness, the goofy, vintage style Gucci typically favours and a humorous take on a TikTok trend. The 33-second-long video sees Francis walking through an old-fashioned railway station and transitioning from a vintage train conductor's uniform to an outfit from the new collection. The transitions have seemingly been created to match Bourgeois' lovable, awkward humour and to play on Gucci's signature playfulness.

With 2.2 million followers, the influencer was heavily featured in the campaign that took the internet and Gen-Z by storm, with fans of both Bourgeois and the campaign taking to TikTok to make their own videos inspired by the partnership.

The success of the Gucci x North Face campaign is in part a result of Bourgeois' inclusion. His popularity amongst Gen-Z encouraged young consumers to engage with the campaign and contribute to the conversation on other social media platforms.

Tom explains Gucci's unpolished collaboration:
"Videos on TikTok tend to be rougher around the edges, so filming time is less than a conventional video, but the best ones have usually been subject to lots of critical thought in the planning and prep stage."
3. Brands and viral trends on TikTok
Brands on TikTok are not just making trainspotters fashion models, they are also engaging with viral trends.

A core aspect of TikTok is its easy-to-use effects, sounds and music. As a result of this, trends and 'memes' are created and circulated round the app almost daily.

Engaging in these trends offers brands the opportunity to create engaging, 'shareable' content, but is also a method of marketing that is cost effective and relatively easy to create.

TikTok is a platform that constantly encourages collaboration and interpretation, by creating easily accessible, viral content. Brands can therefore inspire viewers to create their own content and further promote their brand.

Budget European airline Ryanair has managed to accumulate a TikTok following of over 1.5 million since they began posting in August 2021.
The brand's simple yet effective formula allows them to create hilarious videos using effects and sounds found on the app. Always making sure to stay true to its core selling point – flights across Europe at rock-bottom prices – Ryanair manages to create content that both makes us laugh and makes a sale.

When it comes to viral trends, Tom believes:
"Your videos should be interesting or entertaining on their own merits. The addition of viral trends is a cherry on top so long as it fits seamlessly." 
4. Behind-the-scenes content on TikTok
A source of content that is often readily available to brands is B-roll footage or behind-the-scenes content that may be generated in the creation of other marketing materials.
BMW's creative team provided their followers with demonstrations of how some of its most iconic marketing material is created.
Featured in the videos were some of TikTok's biggest creators, including Younes Zarou (@youneszarou) who has 38 million followers and Falco Punch (@falcopunch) who has 10.5 million, allowing the brand a greater reach across fanbases.
5. Brands creating striking visual content on TikTok
Whilst at times it can seem that TikTok is simply a platform for funny cat videos, TikTok is also the home to some truly striking videography. Brands are utilising the app's format to create content that excites and inspires audiences.

Prada is a prime example of this strategy, and much like their garments, concentrates on the quality of their work.

The combination of bright colours, textures and evocative sounds creates stunning visuals that wonderfully present their luxury garments to consumers.

This strategy has gained Prada millions of views and expertly reflects classic luxury storytelling in a new, digital world.
Video production for brands on TikTok
There are some key considerations for brands when it comes to TikTok. It's still a growing platform and if you're looking to target Gen Z or make first contact with them to warm them up to your brand for future sales, it should definitely be a content marketing consideration - especially because brand recall is strong here. TikTok's research with MediaScience showed that:
"Brands on TikTok are more memorable and perceived more positively than brands on competitive platforms." 
This is due to the fact that ads are engaging and memorable, even at short durations and regardless of how long an ad stays on screen, TikTok draws early attention and physiological engagement in the first few seconds. Find out more about TikTok's relationship with advertisers.

In addition, from a brand's perspective, TikTok allows them to show a much more authentic and transparent side to what they're doing.

The platform is not without its challenges - and some are significant for this platform in particular, like how to be authentic, how to express your brand in a way that feels natural within the platform and how to use music as part of any campaign.

These may sync with other issues too; how to create consistent, high quality content at scale and speed as well as evaluate the impact it's having.
In conclusion
TikTok has quickly become a dominant force in social media marketing. Its accessible format offers brands an opportunity to approach marketing in new and exciting ways. Its acceptance of creativity results in a platform for brands to deviate from the norm and generate new, unexpected content. Be it creating viral content of their own, setting challenges or working with an influencer, brands can now find a way to promote themselves to the TikTok generation.

But how does Tom feel about TikTok's new position in content marketing strategies?
"Corporate messaging and advertising don't resonate with Gen Z in the same way as other audiences, but if businesses can create content that delights and entertains, they'll find a beautifully effective route to creating new brand advocates. Put the corporate targets on the backburner and focus on entertaining the audience.  

"TikTok is a place for brands to have fun. Be creative and give back to audiences. I like to think of TikTok for brands as showcasing the fun, outgoing person you are at home, rather than the more professional person you are at work!"
Take advantage of our FREE content consultation here to talk to us about your TikTok issues.