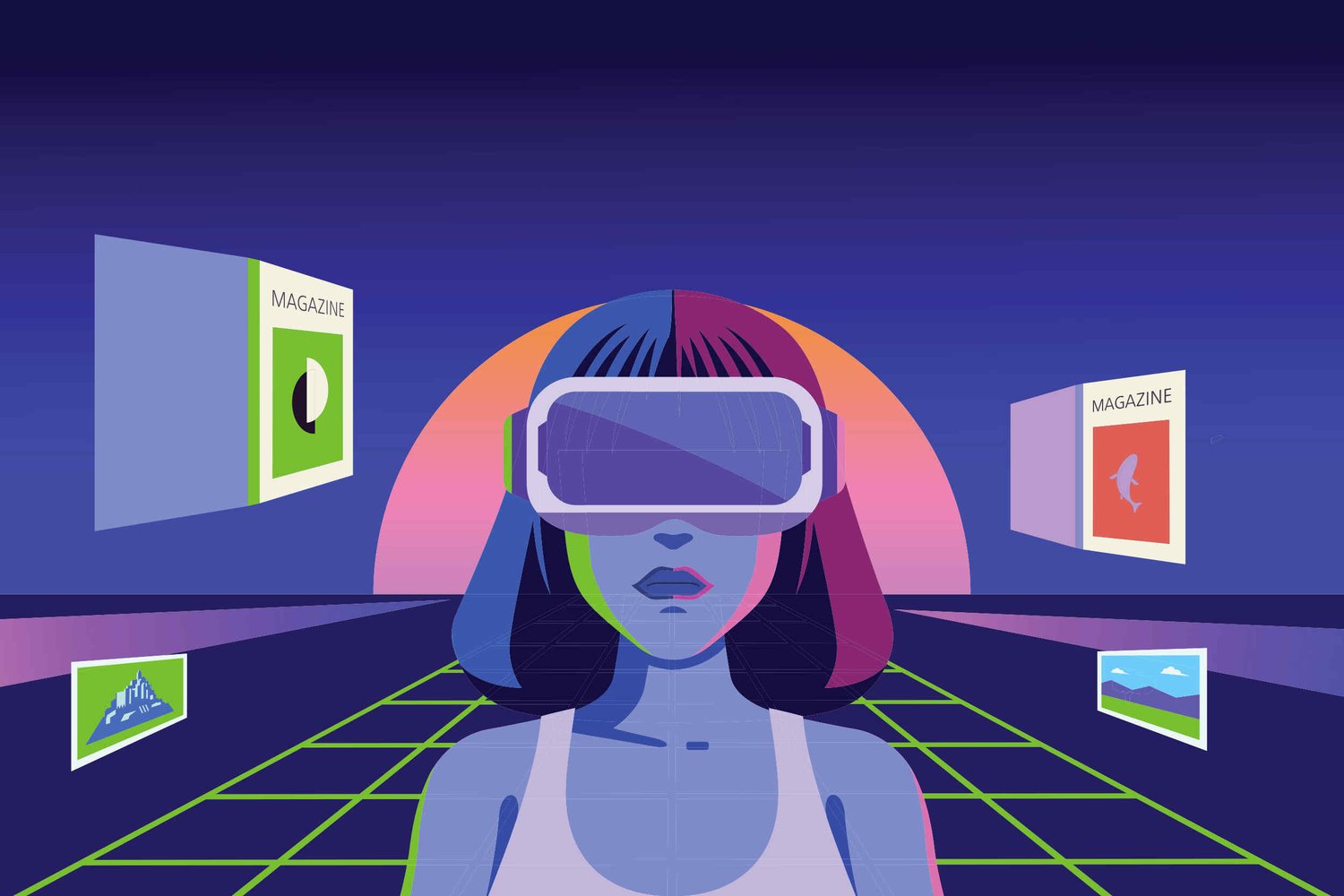 The continual advancement of technology has now brought us into the age of internet 3.0, of smart devices and developments in virtual reality but how will something as old school as print media fare in this new world?
The metaverse may seem just like a concept for many people now, but anyone with a print publication and particularly a brand magazine should start thinking about how to take advantage of this new development now. Creating a digital magazine is one step in this direction.
Our behaviour has already changed significantly - and this is likely to evolve further. A study by the Center for Disease Control and Prevention (CDC) has shown that Americans aged between 11 and 18 are spending seven to nine hours a day in front of screens for entertainment; this does not include hours at work and is primarily used watching television online.

But this detached mode of viewing at a physical distance from the device may be ending leading the way away from the 'flat' internet era as companies push towards developing an immersive, interactive virtual reality, dubbed the metaverse.

Virtual and augmented realities have already been created – one example being gaming – but the scale and scope of the metaverse differentiates it substantially from existing technologies. With the growing potential for such a large change in digital platforms and consumption, where might this leave traditional media? Will people pick up a magazine? What will a branded magazine be like in this new world? While much remains to be seen, here's a look at what we know so far.
What is the metaverse?
Metaverse is a relatively new term, having been coined in 1992 by American author Neal Stephenson for his science fiction novel, Snow Crash. The word itself is a portmanteau of meta (derived from the Greek word for among, with, beside or after, now understood as meaning to go beyond, behind or change) and universe (defined not only as all existing space and matter, but as a domain encompassing people, their activities and interests).

There are several companies working towards creating the metaverse, with some focusing on workspaces and others approaching it from a gaming angle.
Key companies pursuing the possibility include Meta (formerly Facebook), Microsoft, Epic Games, Roblox, Disney and Minecraft. However, it is important to note that the metaverse does not yet exist – at least in full – so much of the discussion around the opportunities for publishers is presently speculative.

The metaverse is also sometimes grouped under the term Web 3.0, which comprises the metaverse, virtual reality, augmented reality and spatial web technologies.
As a wider concept, it is characterised by decentralisation, use of cryptocurrencies and non-fungible tokens (NFTs: non-interchangeable units of data stored on a blockchain, which is a form of digital ledger, that can be sold and traded). Although it has become closely associated with virtual and augmented reality technology, platforms from which it could be accessed may ultimately extend to everyday devices, such as laptops and smartphones.

Mark Zuckerberg, co-founder and CEO of Meta, has estimated that we are five to 20 years away from core features of the metaverse becoming mainstream. However, USA Today lists several key components which are already with us: ultra-fast broadband speeds, virtual reality headsets and persistent, always-on online worlds.

There may also be some form of overlap into the real world, with one aim being to incorporate real-life objects via what Twipe describes as "augmented virtuality" technologies. Although it is unclear how many objects would be included or what their nature might be, it is possible that this could become a new way to consume books and other publications. Meta, for example, is working on a haptic feedback glove to enable users to pick up and move objects within a virtual realm.
Publishing in a virtual world
Libraries and books already feature in virtual reality games, so clearly these forms of traditional print media are not being forgotten or overlooked. However, the ways in which they are utilised within the narratives and spaces of the platforms vary, from challenging gamers to find research books to a loophole for publishing censored journalism.
Fortnite: This online game, developed by Epic Games, already displays some traits akin to the metaverse.
Virtual concerts have been hosted within the world of the game, featuring Ariana Grande and Marshmello. However, it has also become a social platform in parallel with the gaming aspect, a characteristic which has proved especially popular with younger users. Books do exist within this landscape, featuring as objects which players must try to find.

Roblox: Roblox is already selling digital-only versions of commodities, having recently teamed up with Gucci to sell its accessories and host a virtual art exhibition.
Many other brands and celebrities have also joined Roblox, one example being Ralph Lauren, which has a Polo shop within the world of this online gaming platform. Players are able to visit the shop floor and customise their avatars with branded clothing. Following this precedent, a similar route may be possible for publishers or bookshops, enabling them to enter virtual landscapes in a similar fashion so that players can engage with their media.

Minecraft: Publications have found a new home within this internationally popular video game, in which players can build their own pieces of a virtual world and collaborate with other gamers.
One such project has resulted in the creation of the Uncensored Library: this white building is now home to numerous articles and books, which have been censored elsewhere. International non-profit organisation Reporters Without Borders are behind its creation, choosing the platform because of its widespread reach and lack of censorship.

Meta Quest: Part of the larger Meta Platforms Inc., owned by Mark Zuckerberg, Meta Quest produces gaming products. One example is the Oculus virtual reality headset, through which users can access eBooks. According to Twipe, users can "physically turn the pages of their books as they go" within the virtual reality, which could also breathe new life into other print mediums – such as newspapers – in the future.

Second Life: Founded in 2003 by Linden Labs, Second Life is the most complete virtual world at the time of writing. Within it, there are several publications which players can access for different forms of news and information. Twipe lists these as The Second Life Enquirer, The Maliqusition and Kultivate Magazine. The Second Life Enquirer is a virtual newspaper within the platform, which can be used for advertising the services and/or products of virtual businesses. However, to use this service, advertising spots need to be purchased using the internal currency of linden dollars. The Maliqusition specialises in aviation news, sharing personal stories and views, while Kultivate Magazine promotes arts and culture within the virtual world.

While each of these platforms has given publications different functions, the interpretation which best forecasts the future of the books, magazines and other print media remains to be seen. As the largest virtual world to date, Second Life's inclusion of its own newspaper and magazines, albeit in a digital format, is an encouraging sign, while the concept of leafing through the pages of an eBook or a magazine via a virtual reality headset implies that the design and format of published material may continue to look very similar to present.

Other potential uses for the metaverse are as a collaboration or networking space, bringing together writers and authors into one virtual room, regardless of their physical location in the world. For the pages of the publications themselves, there are also new possibilities: layers of information can be stored within a virtual space, which could be used to make reading more interactive or transform the way information is consumed.
For example, as Stephanie Miles contemplates in Web Publisher Pro:
"Imagine a home design magazine that takes readers inside luxury homes via virtual reality tours. Or imagine a sports magazine that can put readers courtside at virtual games and matches. In this new universe, a digital avatar could show up at their virtual workspace and pull out the latest edition of a city magazine to read while they wait for their co-workers to arrive."
A precursor to this idea has already been put into practice, albeit for the purposes of home design: Ikea's app is currently giving customers the ability to trial digital versions of products in their homes, through augmented reality technology.
Take advantage of our FREE content consultation here to talk to us about any print and digital media issues you're struggling with.
Magazines and the metaverse
Some platforms are now blending NFTs, different realities and various revenue-generation models for the next wave of digital publishing. This is likely to be an extension of new content monetisation models that brands and publishers are already looking to.
The potential for magazines in the metaverse has already been recognised by several organisations, including DIGITALAX, CYBR, Huasheng Media and Alimama.

DIGITALAX recently launched DIGIFIZZY, a magazine about the metaverse. Available to read online for free, the digital publication behaves similarly to a print edition, with readers able to turn the pages and flick through at their own pace. However, the design also features audio files and animations, with words and images scrolling along the pages in a news ticker-like manner. The articles therein typically cover the metaverse, fashion, art and gaming, offering readers the opportunity to unlock paid NFT content. A completely new publishing model is being trialled with this publication.

Similarly, CYBR Magazine is engaging with NFTs, allowing readers to acquire back issues with NFTs and transfer their subscription if they sell the associated NFT. However, CYBR's approach stands out for its use of a 3D virtual display tablet. Each magazine issue is available on this virtual device and it is designed for future use in the metaverse. Eventually, CYBR intends to bring its magazine into virtual realities and the metaverse but, interestingly, aims to hark back to the original print format by designing the digital version so that readers can turn the pages.

Meanwhile, Huasheng Media and Alimama have partnered to produce MO Magazine. This publication exists within a digital environment, bringing reading into a virtual reality, supported by audio. All three of these publications offer incentives to their readers, such as the chance to own a rare NFT.
So where does that leave the rest of print?
It remains early days in the development of the metaverse and with technologies continuing to evolve, early adopters are the only likely audience for the time being. However, as the aforementioned examples demonstrate, the divide between different media formats and channels used for content creation and sharing stories is becoming increasingly blurred.

People have and will always want to hear and engage with interesting stories, as several millennia of recorded tales indicates. Yet, as we move further into Web 3.0, this new space will ask us to explore and interact with content in new and exciting ways.

To some extent, Web 2.0 is already doing this by offering more for both consumers and creators. Brands with print magazines have already been experimenting with technological developments like digital magazines - and there are certainly benefits to this new way of publishing. This approach will certainly benefit anyone wanting to bulletproof their future.
As we've seen throughout the history of the internet, the real winners have been strong brands who are not scared to test and learn early.
The metaverse is still a long way off, for businesses and consumers alike, but experimenting even more with interactive content and new forms of storytelling could help to lay the groundwork.
Take advantage of our FREE content consultation here to talk to us about any print and digital media issues you're struggling with.